Typhoon This Weekend
This weekend I had my first ever typhoon! I was SO excited. I wanted rain and wind and thunderstorms and blackouts, and a nice relaxing day indoors. (Plus a day off on Monday) But... in Taipei it didn't happen. I guess the mountains surrounding the city kept us from most of the damage. I got to see some rain and some winds. So I'm a little disappointed on that account.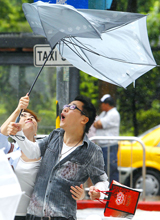 The South really got it bad and it created a LOT of damage, so I feel really sorry for them. Here's the story in our newspaper if you want to read more.
http://www.taipeitimes.com/News/front/archives/2010/09/20/2003483316
Other than that, I feel really swamped, because I want to do a good job, especially now that I only have to go to one school. There's just a lot to be done. EEEK! But anyways, it's looking nasty outside and I should be going home before it starts raining!!!